Retirement Planning
The Retirement Planning Process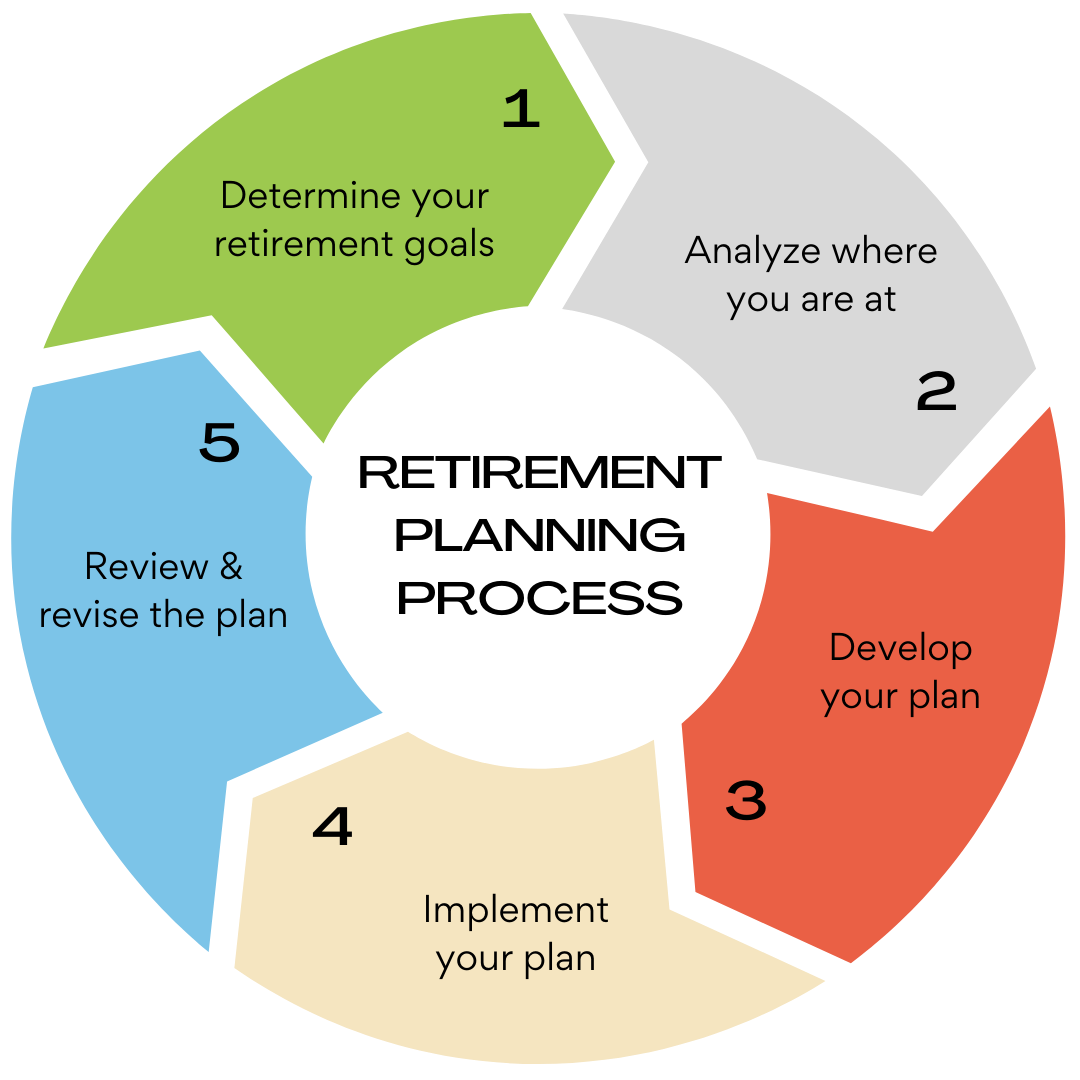 Retirement planning starts much sooner than actual retirement. Our Retirement Planning process takes a long-term view of your financial wellbeing. We use a life-cycle approach to ensure your 'life after work' is as well-planned as your life prior to retirement.
Here is how the retirement planning process works for you:
Determine your retirement goals. Through an in-depth and personalized approach, we understand what your retirement goals are.
Analyze where you are at. To plan a meaningful retirement, you need to know where you currently stand. We'll help you build an in-depth financial inventory to use as part of our retirement planning process.
Develop your plan. Remember all those questions you had on your mind - largely unanswered? Well, we'll work with you to create a retirement plan that addresses every one of them. When we're done, you'll have a better understanding of what you need (income) to fund your retirement lifestyle, and what your investments could generate, and we will discuss and address any potential shortfalls.
Implement the plan. As you move closer to retirement, we'll work closely with you to ensure the plans are implemented in a phased and orderly manner. The goal of our Retirement Planning approach is to make transitioning into retirement as seamless and stress-free as possible.
Review & revise the plan. We wil continue to monitor and review your retirement plans, and consult with you frequently about any changes or updates needed to address your evolving retirement lifestyle needs.
Successfully managing your money in retirement means ensuring your savings can support your needs and lifestyle for years to come. Our retirement strategies are designed to maximize income, minimize taxes, and keep income flowing for your lifetime - so you can cover your essential needs, and also be ready for any unexpected and late-retirement expenses.
We offer access to various IRAs: SIMPLE, Roth, traditional, rollovers, transfers and SEP (Simplified Employee Pension) plans. IRAs allow the income from interest, dividends and capital gains to compound each year without taxes**. In addition, you can also defer taxes on either the money you put into the plan initially or on the money you withdraw in retirement, depending on whether you choose a traditional or Roth IRA.
Retirement is a time to explore new opportunities. Talk to Jim Ziebarth about how to best take advantage of this next stage in life.